World BEYOND War Youth Network Social Media Photo Contest 2021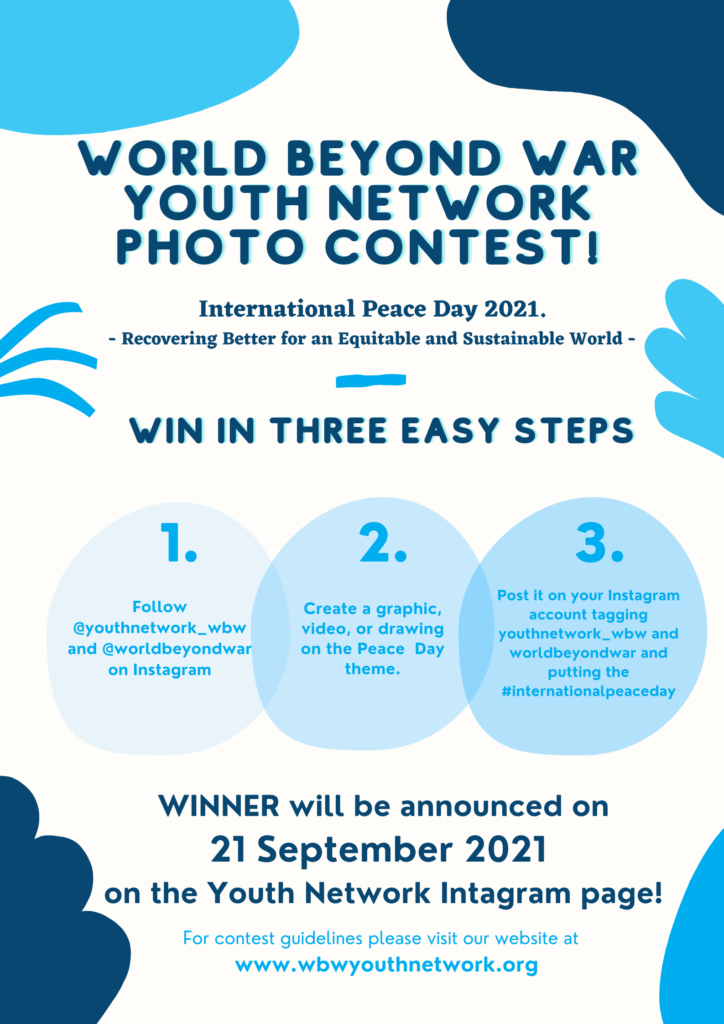 NO PURCHASE OR PAYMENT OF ANY KIND IS NECESSARY TO ENTER OR WIN.
Entry period starts on August 12, 2021, at 5:00 p.m. Eastern Time (ET) and ends on September 12, 2021, at 5:00 p.m. ET
ELIGIBILITY: The Contest is open to all countries of the world, for youth between the ages of 18 – 29 years old as of the start of the Entry Period. Board Members (and members of their immediate family) of the World BEYOND War Youth Network and anyone connected to this competition are not eligible to enter. Entrants must have a valid Instagram account in order to enter.
HOW TO ENTER: Follow @youthnetwork_wbw and @worldbeyondwar on Instagram during the Contest Period. Post a photo, graphic or short video (max. 60 seconds) on the topic of celebrating the International Day of Peace (September 21). Make sure you tag @youthnetwork_wbw and @worldbeyondwar and use the hashtag #internationalpeaceday.
All entries must be the original work of the entrant.
REQUIREMENTS OF ENTRIES: Photos, graphics and videos may not contain any content that:
• is sexually explicit or suggestive; unnecessarily violent or derogatory of any ethnic, racial, gender, religious, professional or age group; profane or pornographic; contains nudity;
• promotes alcohol, illegal drugs, tobacco, firearms/weapons (or the use of any of the foregoing);
• promotes any activities that may appear unsafe or dangerous; promotes any particular political agenda or message;
• is obscene or offensive; endorses any form of hate or hate group;
• defames, misrepresents or contains disparaging remarks about other people or companies;
• contains trademarks, logos, or trade dress (such as distinctive packaging or building exteriors/interiors) owned by others, without permission;
• contains any personal identification, such as personal names, e-mail addresses or street addresses;
*contains copyrighted materials owned by others (including photographs, sculptures, paintings, and other works of art or images published on or in websites, television, movies or other media), without permission;
• contains materials embodying the names, likenesses, voices, or other indicia identifying any person, including, without limitation, celebrities and/or other public or private figures, living or dead, without permission;
*contains look-alikes of celebrities or other public or private figures, living or dead; *communicates messages or images inconsistent with the positive images and/or goodwill to which we wish to associate; and/or violates any law.
Entry must be the original work of the entrant, may not have been previously published on an entity other than Instagram, may not have won previous awards, and must not infringe upon the copyrights, trademarks, rights of privacy, publicity or other intellectual property or other rights of any person or entity. If the Entry contains any material or elements that are not owned by the entrant, the person will be automatically excluded from the WBWYN contest.

WINNERS SELECTION/NOTIFICATION: A shortlist will be selected from all eligible entries received, to be presented to a panel of judges including WBW Board and WBWYN Board members. Final judging will take place during the week beginning 13 September. The odds of winning depend on the number of eligible entries received during the Contest Period. Potential winners may be notified by Instagram, and then directed to Instagram DM for contact/mailing information.
PRIZES:
1st prize: One item from the online shop and free WBW online course
2nd prize: Free WBW online course
3rd prize: One item from the online shop
SPONSORS: World BEYOND War, 513 E Main St #1484, Charlottesville VA 22902 USA